Education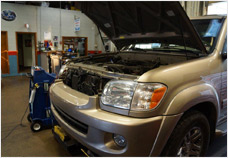 The following is a list of car care tips provided by ASA and other sources.
Automotive Maintenance on a Budget (1/3/2012)
The following simple and inexpensive preventive inspections may extend the life of your vehicle, ensure safer operation and even benefit the environment.
Finding a Shop You Can Trust (1/3/2012)
How do you find a shop you can trust to service your vehicle — one that will make you feel confident about your choice and provide quality repairs at a fair price? Here are some tips.